What the Pilgrims Can Teach Us About Achieving Our Goals
What a few weeks it has been! As you probably know, I am now a married man! (woot-woot!) Here's one of the pics we've gotten back so far. All I can say is God is good!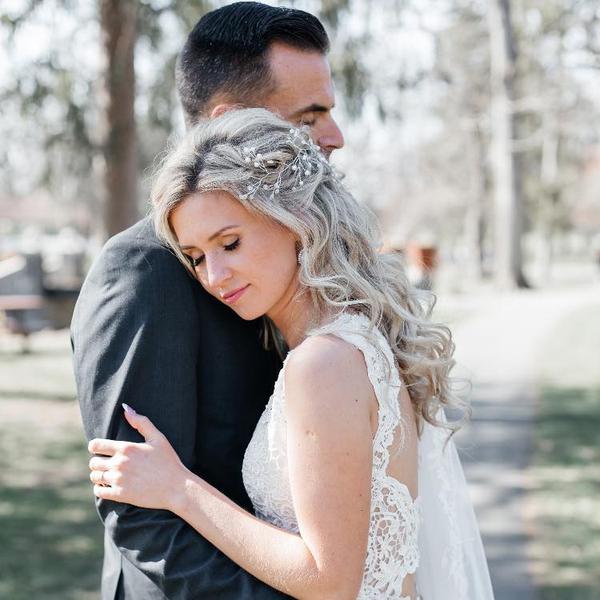 We got married near Lancaster, PA, and after the wedding we spent 5 days in the northeast visiting sites of key events in America's history. We went to Philadelphia and saw the Liberty Bell and Independence Hall (where the declaration was signed), we went to Cape Cod and Plymouth Rock and visited many of the major sites of the Pilgrims first colony, and we went to Boston and walked on the Freedom Trail where Paul Revere rode on horseback to warn of the coming British invasion during the Revolutionary War.
After a trip like this all I can say is that I love America!
Although each place inspired me, I have to say that it was going to Plymouth to learn about America's foundation layers- the Pilgrims, that inspired me the most. The fact that way back in 1620, a group of people (who nowadays would be called "religious fanatics") were zealous enough for the freedom to worship God according to the Bible that they were willing to endure the threat of murder or imprisonment, to take a 66-day journey across the Atlantic Ocean to a land they'd never been to or knew if they could live on, purely because they believed that God told them to do it, is to me…absolutely amazing.
Of course, their faith is inspiring enough, but when you realize how many hardships and struggles they had to go through along the way, you can really appreciate what they accomplished.
They originally left in July with another boat called the Speedwell. This boat sprang leaks during the initial 6 weeks of travels, and it had to be brought back to shore several times. After this, a decision was made to leave the ship and to have everyone pile on the Mayflower, but many didn't like that idea. Some even chose to go back to their life of bondage rather than try sailing one more time.
During its 2 mile per hour trip across the Atlantic, the Mayflower encountered several storms, including one that almost sank the ship completely. The pilgrims called their survival a miracle of God. After 66 days, while on the brink of starvation, they finally spotted land in Cape Cod. It was here that they found an enormous source of food that kept them alive for weeks. They considered this to also be a miracle of God.
After 5 weeks they were not convinced they could survive in Cape Cod, so they left and eventually landed in Plymouth. By the time they arrived, winter was already fierce and throughout the next 4 months over half of the original 102 passengers died from problems related to the elements. The remaining Pilgrims became America's true forefathers, developing a government that was truly of the people, by the people and for the people. The first of its kind.
You can read about this early governmental structure in their founding document, The Mayflower Compact. They also state that the primary reason behind starting the colony was "for the glory of God and the advancement of the Christian faith." No wonder America is so blessed!
Read the Mayflower Compact here- The Mayflower Compact – The Mayflower Society
One thing I love about the Pilgrims' story is that it shows the tremendous blessings that come from being resilient. Looking back at the highlights of their journey shows us that there were many times when they could have easily been persuaded to give up. Doesn't hearing about it kind of make you wonder what you would have done if you were there?
Since this trip I've pondered- would I have given up after the Speedwell sprung leaks? Would I have fought to have them turn around and go home after the first few bad storms? Would I have continued to believe that this idea could work after I saw half my friends die during the first winter?
All I can say is that…I hope so.
But truth be told, resilience is not an abstract idea, nor is it an inborn trait. Rather, it is developed over time and experience. Now, I don't think you'll be making any 66-day journeys on water or 4-month campouts in the New England winter anytime soon, but I'm sure you will be faced with some challenges of your own in the near future, if you are not already. Given that this is the case for ALL of us, we might as well become more educated and skilled in the art of resilience so that we can face down these challenges with faith and perseverance just like the pilgrims did.
Here's a great article that shares many key points about resilience, and it also lists ways to enhance your own-physical, emotional and mental.
Click here- What Is Resilience? Your Guide to Facing Life's Challenges, Adversities and Crises
Hope you enjoy it!
Chris
P.S.- Here's another cool example of resilience, and it actually happened while I was in Plymouth! The Kansas Jayhawks men's basketball team came back from the largest deficit in NCAA history to beat the North Carolina Tarheel's in last Monday's Championship game. My parents both went to KU and even met each other there, so this example is extra special to me.
Read about it here- Kansas Jayhawks Miracle Comeback